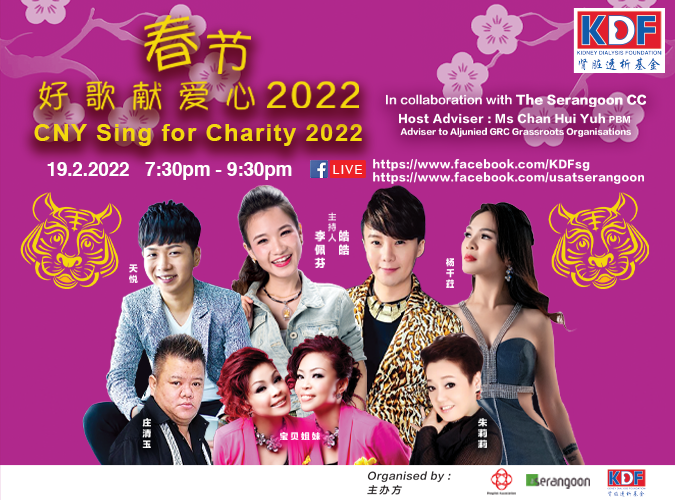 In collaboration with the Serangoon Community Club, join us as we usher in the auspicious lunar new year with our KDF community concert series – CNY Sing For Charity 2022.
Enjoy a festive line-up of exciting song and dance performances by celebrity personalities and the residents of Serangoon as they lend their voices to charity! The 2-hour performance will be livestreamed on Facebook on 19 February 2022, 7.30pm and will be hosted by popular getai personalites Hao Hao and Lee Peifen.
To make an outright donation to support the event, you may also choose to make an online donation on our GivingSG campaign here.
All funds raised during the event will go into providing subsidised dialysis treatments, medication, and other complementary services for our underprivileged kidney patients.
For donations via cheque, please issue the cheque to 'KDF' and mail it to our main office address,
Kidney Dialysis Foundation
333 Kreta Ayer Road, #03-33
Singapore 080333
You can also make a donation via Paynow to KDF's UEN: 199600830ZK33