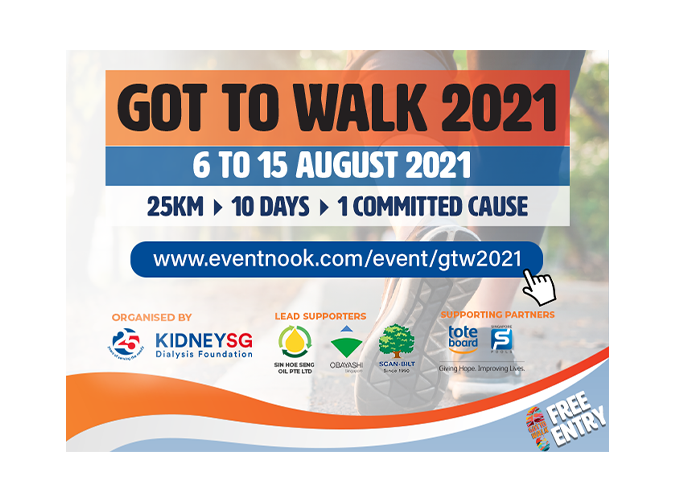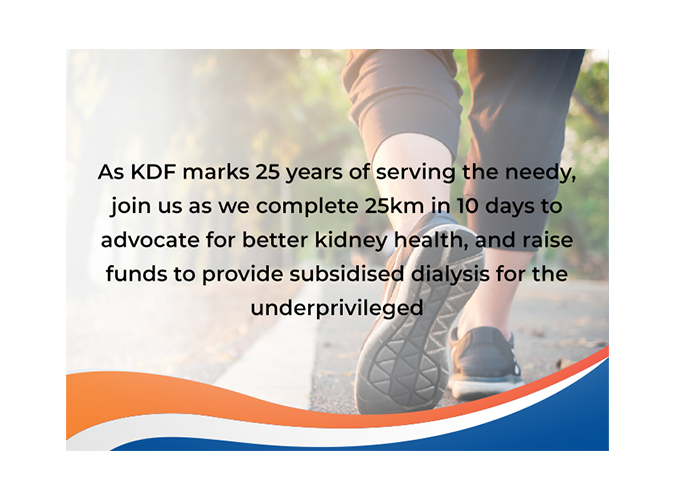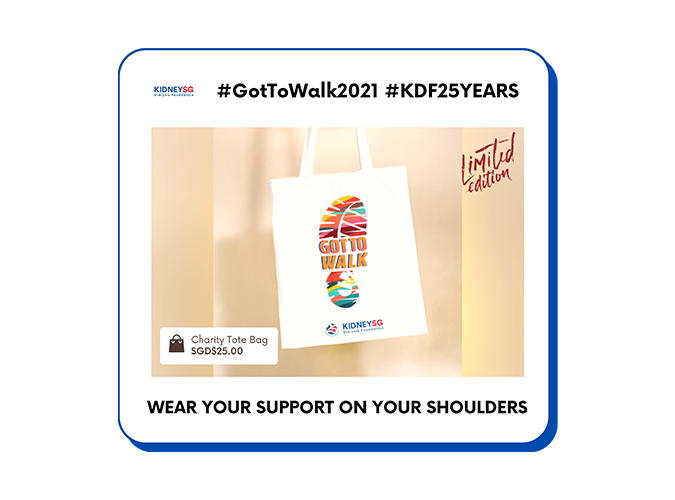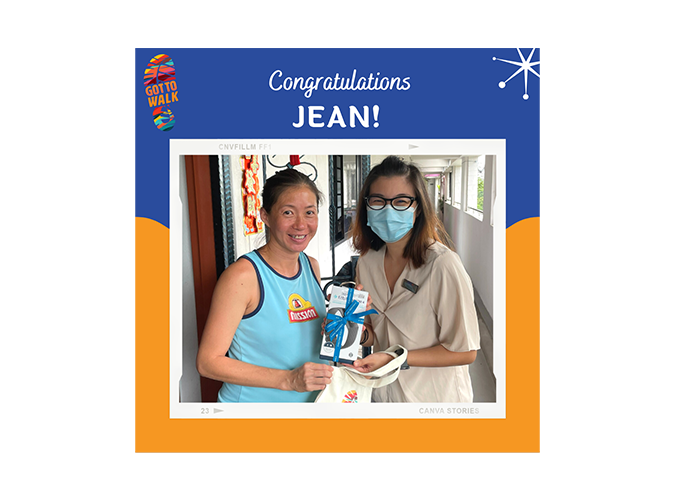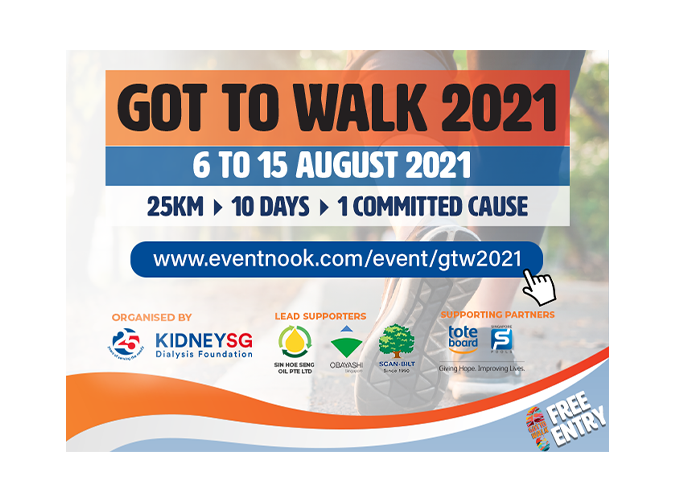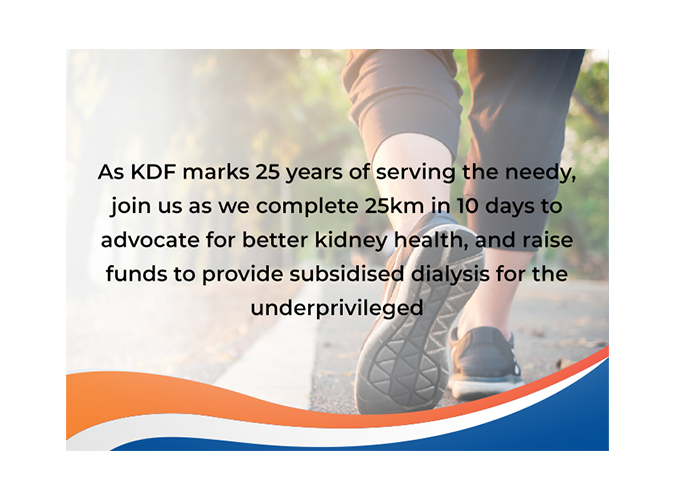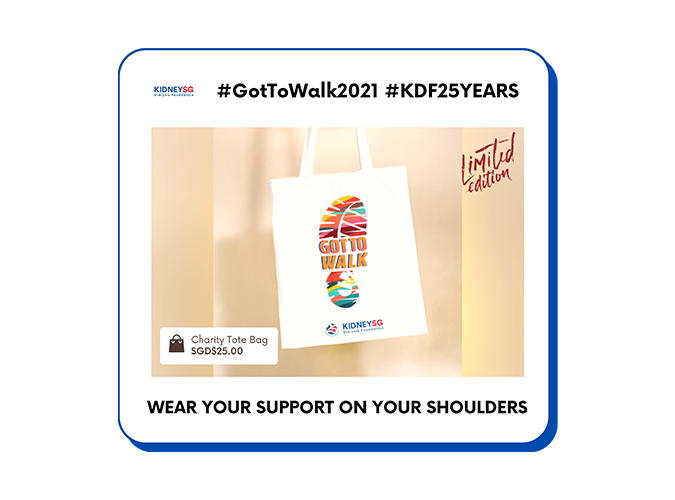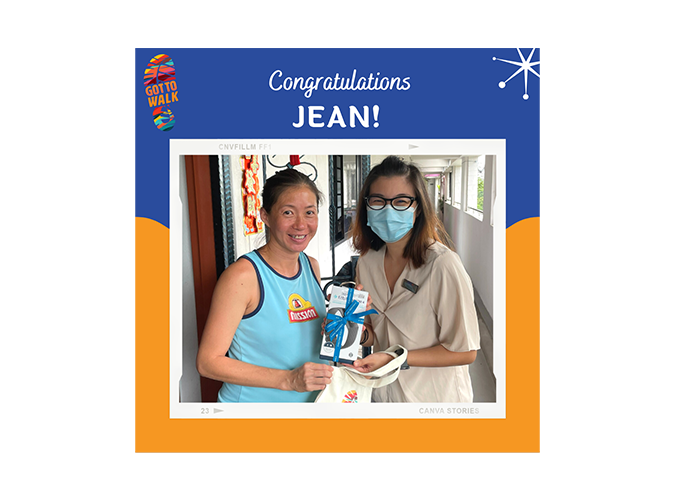 A Healthy Step Forward – Got To Walk 2021
Less than a decade ago, 3 new patients were diagnosed with kidney failure every day in Singapore. Today, this statistic has since risen to 5 new patients daily. Chronic kidney disease is irreversible, and is physically and financially draining. With figures rising at an alarming rate, more must be done to educate communities on preventive measures.
The virtual walkathon Got to Walk was ideated in 2020, with the aim of raising awareness to promote prevention of kidney diseases and to raise funds for our underprivileged kidney patients. Last year, the event fell on the week of Singapore's 55th birthday and participants were encouraged to clock 55,000 steps in 10 days. KDF's debut virtual walkathon saw a total of 1,064 participants clocking an impressive 58,520,000 steps. $100,000 was raised by the end of the event.
To mark 25 years of serving the needy, all registered Got To Walk 2021 participants were encouraged to complete a distance of 25km from 6 to 15 August 2021. They can track their progress with their preferred health tracking app and upload their proof of distance. Participants were also encouraged to rally their friends and family as a Got To Walk 2021 Trailblazer to help raise funds for KDF's underprivileged kidney patients.
Participants were also motivated to share their Got To Walk 2021 journey through pictures and videos on Facebook and Instagram with the tag – #GotToWalk2021. The post with the most likes would get a chance to win a Fitbit Charge 4 steps tracker, proudly sponsored by Singapore Pools. Got To Walk 2021 was featured on popular media platform, The Smart Local, and was a resounding success.
The event saw a total of 1,223 participants clocking an impressive 43,951km and participants received a Certificate of Accomplishment and a limited edition Got To Walk tote bag. Special shoutout to Jean, the winner of our social media contest! She triumphantly clocked 86km in her third trimester, before being a newly minted mother to a healthy new-born son. Thank you for making us part of your family's milestones!
We would not have come this far, if not for the generous support of our Lead Sponsors and dedicated Trailblazers. Got To Walk 2021 raised close to $300,000, and the amount will go into supporting the dialysis treatments and medications of our underprivileged kidney patients, who belong to the lowest 10% income tier in Singapore.
---
ABOUT 'GOT TO WALK 2021' - TRAILBLAZER SCHEME
Participants are also encouraged to be a Trailblazer and share their Got To Walk 2021 journey on GivingSG, and get their friends and family to support their efforts with a donation. The Trailblazer scheme will be a month-long initiative, from 1 August to 31 August 2021.
All funds raised during the event will go into providing subsidised dialysis treatments, medication, and other complementary services for our underprivileged kidney patients.
For donations via cheque, please issue the cheque to 'KDF' and mail it to our main office address,
Kidney Dialysis Foundation
333 Kreta Ayer Road, #03-33
Singapore 080333
You can also make a donation via Paynow to KDF's UEN: 199600830ZK33
Lead Supporters

Supporting Partners