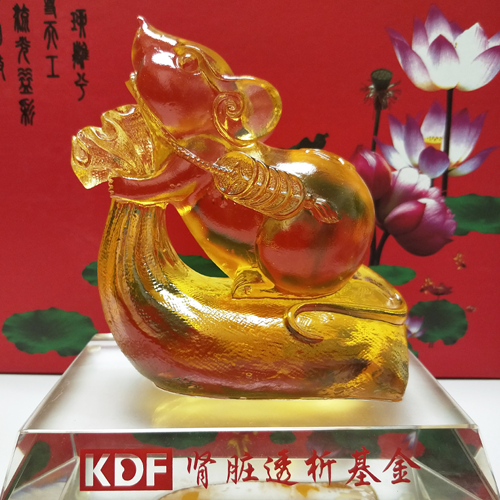 This year, the KDF Chinese Community Committee (CCC) is proud to present the 2020 Charity Icon, 'Fortune Rat'. Made with exquisite golden coloured glass (known as 'Liu Li'), this petite yet endearing icon features a rat offering its bag of fortunes and blessings to its owner.
With the outbreak of the COVID-19 virus, the KDF CCC would like to dedicate this auspicious charity icon to bring about good health to everyone, harmony to the family and new opportunities in businesses and investments.
Support our low-income needy patients on dialysis with our charity icon today. Event organisers may also show your support by allowing KDF to fundraise at your event.
Donations of $500 and above will be entitled to one charity icon. All donations are entitled to 2.5 times income tax deduction. You can make an online donation via giving.sg.
Contact Mr Triston Siew at 6559 2650 or email triston.siew@kdf.org.sg to find out more.
---
2020 年KDF慈善福物《鼠兆康年》
今年KDF华社筹款委员会推出的慈善福物是一只机灵可爱的琉璃小老鼠。它嘴里叼着一串铜钱,拖着一个硕大的福袋,前爪紧紧抓着袋口,昂首为主人献上宝贝,似乎说着:"主人,我把健康、好运和财富都给您带来了!"
2020年初始,一场突发疫情让人们再次认识到健康的重要。筹委会因此为我们的吉祥琉璃鼠取名《鼠兆康年》,希望它能为您及家人带来满满的福气和财气,更重要的是健康和平安。
欢迎您义标或义购福物《鼠兆康年》,同时也倡议庙宇、会馆、商联会和中元会让KDF在您的宴会中义标福物,为贫困肾脏病患筹集洗肾基金,也为您带来无量福报、富贵安康。
福物义标或义购最低价$500元,捐款全额可获2.5倍所得税回扣。您可在 giving.sg 网上捐款。
如需咨询,请联系Triston邱先生, 6559 2650, 电邮: Triston.siew@kdf.org.sg